BCScreen (Breast Cancer Screen)
We are developing new sophisticated screening methods to help scientists, regulators, and manufacturers zero in on chemicals that are most likely to increase breast cancer risk.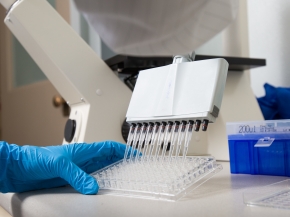 Conventional toxicological screens are time-consuming and expensive because they rely on animal testing. In contrast, high throughput screening uses an automated approach—a complex system of robots, cameras, and computer software—to test large numbers of chemicals on human cells. With high throughput screening, researchers can perform hundreds, even thousands of experiments in a matter of hours, instead of the years it would take using traditional screening tools. This new approach ultimately will help government agencies regulate chemicals more effectively and assist companies in developing greener products.
Pharmaceutical companies have used high throughput screening for years to sift through vast libraries of molecules for potential drug compounds. Recently, toxicologists have adopted the technology in search of quick and accurate ways of predicting the toxicity of chemicals. However, so far these screens have relied primarily on human liver, kidney, and lung cells and therefore may say little about the effects of chemicals on breast cancer.
To fill that gap, Silent Spring Institute is designing new high throughput toxicity screens using breast cells. The idea is to expose the cells to different chemicals and look for specific disruptions such as DNA damage, increased estrogen receptor activity, or changes in the expression of genes involved in breast development and tumor growth. These molecular signatures can be used by regulatory agencies and manufacturers to quickly identify and prioritize chemicals with potential breast cancer risk and prevent their use in everyday products.
Funded by
News & Updates
List includes potential carcinogens that act by stimulating production of hormones that fuel breast tumors
Estrogen-mimicking chemicals called parabens, which are commonly found in an array of personal care products, may be more dangerous at lower doses than previously thought, according to a new study.
Silent Spring Institute has embarked on a new research effort to develop high throughput screening tools for identifying chemicals most likely to increase breast cancer risk.