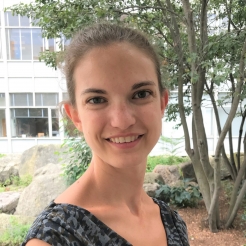 Research Scientist, Toxicology and Carcinogenicity
Dr. Jenny Kay is a Research Scientist whose work focuses on the toxicology and carcinogenicity of environmental exposures. She comes to Silent Spring with expertise in DNA damage and mechanisms of mutagenesis, which she is applying to the Institute's work on chemically-induced breast carcinogenesis. Using experimental approaches, analysis of publicly-available data, and literature review, Dr. Kay is investigating the biological effects of chemicals that increase breast cancer risk, focusing especially on DNA damage and repair, inflammation and hormonal stimulation, and the interactions between these mechanisms that lead to breast cancer. Her goal is to develop approaches for classifying chemicals based on their potential to increase breast cancer risk.
Dr. Kay received her PhD in Biological Engineering at Massachusetts Institute of Technology, where she also completed a postdoctoral fellowship under the guidance of Dr. Bevin Engelward. For her graduate work, Dr. Kay utilized a novel transgenic mouse model to explore the mechanistic relationships between inflammation, DNA damage, mutations, and cancer using the intestines as a model organ.
As a postdoctoral fellow, she helped found the MIT Superfund Research Program (MIT SRP), a transdisciplinary center with a specific emphasis on investigating N-nitrosodimethylamine, an environmental contaminant and probable human carcinogen. She led animal-based research projects at MIT SRP, studying DNA repair gene-environment interactions to identify genetic susceptibility factors. Her collaborative research integrated key biological endpoints over time to map the progression from exposure to toxicity and cancer in mice. Her work has garnered international attention, as N-nitrosamines have recently come under scrutiny for contaminating pharmaceuticals at high levels. Dr. Kay also led the MIT SRP Research Translation Core, serving as the communication hub between MIT SRP researchers and government agencies, community partners, other academics, and the general public.
Projects
Publications & Presentations
Kay J.E., B. Cardona, R.A. Rudel, L.N. Vandenberg, A.M. Soto, S. Christiansen, L.S. Birnbaum, S.E. Fenton. 2022. Chemical Effects on Breast Development, Function, and Cancer Risk: Existing Knowledge and New Opportunities. Current Environmental Health Reports.  doi.org/10.1007/s40572-022-00376-2.

Rudel, R.A., B. Cardona, A. Borrel, J.E. Kay. 2022. Response to "Comment on 'Application of an in Vitro Assay to Identify Chemicals That Increase Estradiol and Progesterone Synthesis and Are Potential Breast Cancer Risk Factors'". Environmental Health Perspectives. https://doi.org/10.1289/EHP11400

Tanabe, S, J. O'Brien, K. E. Tollefsen, Y. Kim, V. Chauhan, C. Yauk, E. Huliganga, R. A. Rudel, J. E. Kay, J. S. Helm, D. Beaton, J. Filipovska, I. Sovadinova, N. Garcia-Reyero, A. Mally, S. S. Poulsen, N. Delrue, E. Fritsche, K. Luettich, C. La Rocca, H. Yepiskoposyan, J. Klose, P. H. Danielsen, M. Esterhuizen, N. R. Jacobsen, U. Vogel, T.W. Gant, I. Choi, R. FitzGerald. 2022. Reactive Oxygen Species in the Adverse Outcome Pathway Framework: Toward Creation of Harmonized Consensus Key Events. Frontiers of Toxicology. https://doi.org/10.3389/ftox.2022.887135