Silent Spring supports EPA's proposed drinking water standard for PFAS
June 2, 2023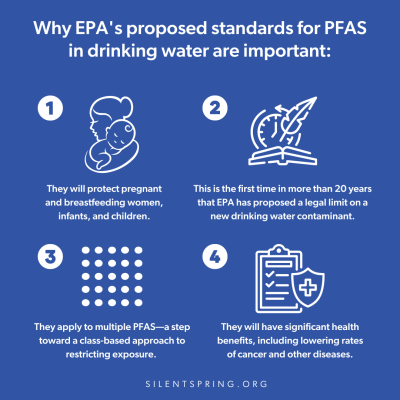 In a comment submitted to the U.S. Environmental Protection Agency (EPA), Silent Spring Institute affirmed its support for the agency's new proposed drinking water standard for PFAS chemicals. This is the first time EPA has proposed to regulate PFAS in drinking water—and the first time in more than 20 years the agency has set an enforceable limit on a new unregulated type of drinking water contaminant—representing a major step toward protecting the public from these toxic chemicals.
In their comment, Silent Spring scientists said:
"Given the extensive scientific evidence of harm from the PFAS class of chemicals, the widespread contamination of U.S. public drinking water supplies, and the need for monitoring and addressing this significant public health issue by reducing exposures, it is critical that EPA finalize these drinking water regulations without delay."
On March 14, 2023, EPA announced draft drinking water standards for six PFAS including PFOA and PFOS—two of the most common PFAS—as well as PFNA, HFPO-DA (commonly known as GenX), PFHxS, and PFBS. The proposed regulation will require public water systems to monitor for these chemicals. It will also require systems to notify the public and reduce PFAS contamination if levels exceed the proposed standard.
EPA expects to finalize the regulation by the end of 2023.
Key takeaways from Silent Spring's comment:
There is strong evidence of harm from low-dose exposures to PFOA and PFOS, including for sensitive subpopulations such as pregnant women, children, and nursing individuals.

Setting standards for PFHxS, HFPO-DA, PFNA, and PFBS, in addition to PFOA and PFOS, is appropriate given strong evidence for adverse health effects and their prevalence in public water supplies.

Regulating PFHxS, HFPO-DA, PFNA, and PFBS cumulatively under a hazard index is appropriate. It is a practical decision for addressing noncancer effects, and has been previously applied in numerous regulatory settings such as Comprehensive Environmental Response, Compensation, and Liability Act (CERCLA). The proposed rule is a step in the right direction toward a class-based approach.

The Health Risk Reduction and Cost Analysis (HRRCA) likely omits or underestimates significant health and environmental benefits to PFAS limits in drinking water.

EPA should target support towards communities and water systems that bear the brunt of PFAS contamination, including, but not limited to, small water systems, rural or isolated systems, overburdened systems, communities of color, low-income communities, and communities in proximity to PFAS-manufacturing and media-disposal facilities.
Read the full comment and supporting material here.
PFAS (per- and polyfluoroalkyl substances) are a class of chemicals that are widely used in consumer products and firefighting foams. The chemicals have contaminated drinking water supplies across the country, serving more than 100 million Americans. Scientists are concerned about the public's exposure because PFAS have been linked to cancers, thyroid disease, reproductive problems, decreased effectiveness of vaccines in children, altered mammary gland development, among other effects. Silent Spring is currently leading several major studies on PFAS aimed at better understanding how people are exposed and the human health impacts.
Resources or References
Learn more about the Institute's PFAS research: