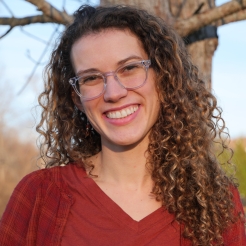 Research Assistant
Katherine Franz joined Silent Spring Institute as a Research Assistant in 2023. She currently focuses on "report-back"— the practice of sharing individual study results with participants— as a tool to improve researcher-participant relations, strengthen ethics of community-engaged research, and promote environmental health literacy. She also responds to public inquiries about Silent Spring's research.
Katherine received a BS in Environmental Sciences and Anthropology from the University of Notre Dame, where her studies centered on human behavior and ecological systems. As an undergraduate, Katherine worked with the Pulte Institute to investigate the impact of water sanitation infrastructure on public health as part of Project Ricardo, an initiative focused on improving access to clean water in Arcabuco, Colombia. She also analyzed nutrient concentrations of freshwater lake samples as a research assistant in the Jones aquatic ecology lab, and spent a summer at the University of Notre Dame Environmental Research Center investigating the territorial calling behavior of green frogs.
In addition to research, she has spent time volunteering as a tutor at a local community center and getting involved in curatorial projects at the University of Notre Dame's Snite Museum of Art and the Laumeier Sculpture Park in St. Louis, Missouri. She feels most at home in spaces that pair academic inquiry with public accessibility, and is grateful to be working for an organization that values both.
Prior to Silent Spring, Katherine served as an Outreach Coordinator at a small history museum through Jesuit Volunteer Corps Northwest / AmeriCorps and briefly work-traded on an organic vegetable and flower farm. In her spare time, she enjoys exploring the outdoors and experimenting with various arts and crafts.
Projects