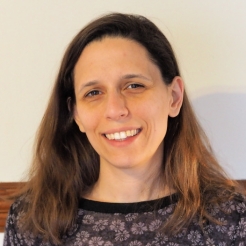 Staff Scientist
Julia Udesky is a staff scientist with a background in epidemiology. She is currently working on a study of asthma and indoor environmental air quality in public housing, as well as a project addressing issues related to the balance between privacy protection and data utility when data are shared online in studies of environmental exposures.
Julia graduated from the Harvard School of Public Health with a Masters in Epidemiology. She concentrated her studies in cancer epidemiology and completed a master's thesis examining the immunomodulatory actions of vitamin D in prostate cancer. Julia's passion for cancer epidemiology and prevention grew out of the five years she spent volunteering at a cancer hospital in New York. While at HSPH, she volunteered as a math tutor at a local elementary school.
Julia previously worked as a research coordinator in the Endocrinology Division at Columbia University Medical Center in New York. She received a BA in Psychology from Northwestern University in Evanston, IL.
Projects
Publications & Presentations
Dodson, R.E., K. E. Boronow, H. Susmann, J.O. Udesky, K.M. Rodgers, D. Weller, M. Woudneh, J.G. Brody, R.A. Rudel. 2020. Consumer behavior and exposure to parabens, bisphenols, triclosan, dichlorophenols, and benzophenone-3: Results from a crowdsourced biomonitoring study. International Journal of Hygiene and Environmental Health. doi.org/10.1016/j.ijheh.2020.113624

Udesky, J.O., K.E. Boronow, P. Brown, L.J. Perovich, J.G. Brody. 2020. Perceived Risks, Benefits, and Interest in Participating in Environmental Health Studies That Share Personal Exposure Data: A U.S. Survey of Prospective Participants. Journal of Empirical Research on Human Research Ethics. doi.org/10.1177/1556264620903595

Udesky, J.O., R.E. Dodson, L.J. Perovich, R.A. Rudel. 2019. Wrangling environmental exposure data: guidance for getting the best information from your laboratory measurements. Environmental Health. 18: 99. doi.org/10.1186/s12940-019-0537-8

Dodson, R.E., V. Bessonneau, J.O. Udesky, M. Nishioka, M. McCauley, R.A. Rudel. 2019. Passive indoor air sampling for consumer product chemicals: a field evaluation study. Journal of Exposure Science & Environmental Epidemiology, 29(1):95-108. doi: 10.1038/s41370-018-0070-9.

Rodgers, K.M., J.O. Udesky, R.A. Rudel, J.G. Brody. 2018. Environmental chemicals and breast cancer: An updated review of epidemiological literature informed by biological mechanisms. Environmental Research. 160:152-182. doi.org/10.1016/j.envres.2017.08.045

Dodson, R.E., J.O. Udesky, M.D. Colton, M. McCauley, D.E. Camann, A.Y. Yau, G. Adamkiewicz, R.A. Rudel. 2017. Chemical exposures in recently renovated low-income housing: Influence of building materials and occupant activities. Environment International. 109:114-127. doi.org/10.1016/j.envint.2017.07.007