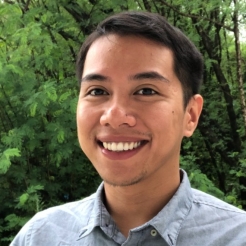 Research Assistant
Aaron Maruzzo joined Silent Spring Institute as a Research Assistant in 2022. He combines his background in public health, environmental science, and epidemiology to address how chemical exposures influence the health of individuals and communities—especially overlooked communities, communities of color, and low-income communities. Aaron has worked on the science and policy sides of emerging contaminants like PFAS in drinking water and consumer products. He is passionate about addressing toxic exposures, translating science into action, and advancing environmental justice.
He holds a BA in Biology and Comparative Literature from Williams College and an MPH in Environmental Health Sciences from the UC Berkeley School of Public Health. Prior to Berkeley, Aaron was the Water Lab Analyst for the municipal water company in the Northern Mariana Islands, the U.S. territory in the Western Pacific where Aaron is originally from. He analyzed the water quality of the islands of Saipan, Tinian, and Rota and cultivated community outreach opportunities.
During his graduate program, Aaron worked with the Safer Consumer Products Program, Guam EPA, the National Academies of Sciences, Engineering, and Medicine, and the Water and Environmental Research Institute to address hazardous chemicals. His capstone project was a cumulative risk assessment, which characterized human health risks associated with environmental contaminant mixtures in Saipan's drinking water. He was awarded the Switzer Fellowship in 2021.
Projects