We are making human health an integral part of sustainability practices on college campuses by raising awareness of the link between health and exposure to everyday toxic chemicals.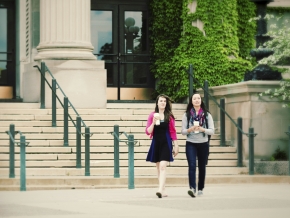 The Healthy Green Campus Project was founded in 2014 from a desire to change the way people think about the pursuit not only of a "green" environment, but also one that sustains human health. By merging the two concepts, we hope to create a healthier environment in which communities can live and thrive for generations to come. Colleges and universities have a long tradition of being the forefront of social and political change. Over the last decade, an increasing number of institutions have implemented sustainability initiatives on their campuses, such as reducing greenhouse gas emissions, improving recycling efforts, and increasing the amount of green space. The Healthy Green Campus Project seeks to expand on those initiatives by highlighting the myriad toxic chemicals people are exposed to everyday, from the flame retardants and fabric coatings in furniture to the hormone-disrupting chemicals found in cosmetics, soaps, cleaners, and other personal care products.
Students are a powerful voice on campus. What's more, they are the leaders, decision-makers, and educators of tomorrow. We partner with student groups to help them raise awareness of the health risks associated with everyday exposure to toxic chemicals and to encourage their peers to make different personal care product choices. We also help students engage with their school's administration to advocate for change.
As large-scale purchasers of building materials and furnishings, colleges and universities have enormous influence on the market and can drive demand for alternative products with safer ingredients. The Healthy Green Campus Project is partnering with school administrators and sustainability leaders to help them incorporate health into their sustainability plans and to give them the tools they need to make the necessary changes in their institutions. By harnessing both the energy of students and the infrastructure of academic centers, we are dedicated to creating a healthy and sustainable environment for all.
For more information, visit the Healthy Green Campus website.
Publications and Presentations