Consumer Products Contain Potentially Harmful Chemicals Not Listed on Labels
March 8, 2012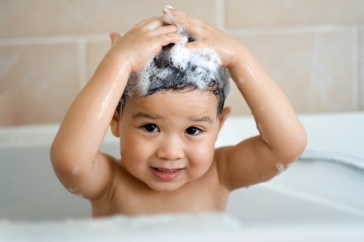 A new study published in a peer-reviewed scientific journal shows that everyday consumer products—such as shampoos, sunscreens, and laundry detergents—contain hormone disruptors and chemicals linked to asthma that are not listed on the product labels.
The study, published online March 8th in Environmental Health Perspectives, tested 50 different categories of products. Tests for 66 specific chemicals detected 55 of them.  The study included both conventional products as well as "alternative" products marketed as containing safer ingredients than their conventional counterparts. The potentially harmful chemicals showed up in all 42 conventional product samples tested and in 32 out of 43 alternative products.
Health-conscious consumers often rely on online safety ratings of consumer products based on the ingredients listed on the labels. This is believed to be the largest study that has actually analyzed the products themselves to see whether they contained a range of chemicals associated with hormonal effects or asthma.  
"The findings show that consumers who use a typical array of products are exposed to many chemicals with potential health effects," said Julia Brody, an author of the study and the executive director of Silent Spring Institute where the study was conducted.  "This study adds to the evidence that safety testing for consumer product chemicals is inadequate and needs to be modernized, and that consumers need better information about exactly what is in the products they use every day. Also, health protections need to consider exposures to mixtures, rather than one chemical at a time."
The study tested the products for the presence of hormone disruptors (endocrine disrupting compounds, EDCs) that raise concerns for breast cancer, growth, and reproduction, as well as chemicals associated with asthma.  The chemicals identified in the products included parabens, phthalates, bisphenol A (BPA), antimicrobials, cyclosiloxanes, glycol ethers, and fragrances. Among the study's many detailed findings:
Vinyl products, such as shower curtains and pillow protectors, contain more than 10% by weight of the phthalate DEHP, an endocrine disruptor (anti-androgen) that has also been associated with increased respiratory symptoms in some studies.
Fragranced products—including air fresheners, dryer sheets, and perfume—and sunscreens had the largest number of target chemicals and some of the highest concentrations.  Fragrances can trigger asthma and some have been shown to mimic estrogen, including making breast cancer cells grow in laboratory studies.
In addition to the labeled ingredients, alternative sunscreens contained up to 7 target chemicals that were unlabeled, including estrogenic UV filters.  The alternative sunscreen with the highest number of target chemicals was a product marketed for babies, children, and sensitive adults.
A consumer who used the tested alternative surface cleaner, tub and tile cleaner, laundry detergent, bar soap, shampoo and conditioner, facial cleanser and lotion, and toothpaste would be exposed to 19 of the target compounds.
Current U.S. regulations are a patchwork of requirements for consumer product manufacturers to list certain ingredients on the labels of different types of products. For example, cosmetics must list ingredients and disclose whether they contain fragrance, but they do not have to list "incidental" ingredients or the specific ingredients in a fragrance mix.  Sunscreens must follow the rules for cosmetics plus the rules for over-the-counter drugs, which must list "active" ingredients (e.g., UV filters).  Cleaning products must list antimicrobials as active ingredients but are not required to list other ingredients.  As a result, consumers cannot be sure what ingredients they are exposed to from products they buy.  Policymakers and researchers also lack information to evaluate potential health risks.
Dr. John Spengler, Akira Yamaguchi Professor of Environmental Health and Human Habitation at Harvard University and an expert on indoor exposures and health, said,  "Consumer product chemicals are detected in people's blood and urine and in their homes, sometimes at high levels.  This study helps identify the important sources of exposure."
Although the study adds significantly to knowledge about chemicals in consumer products, researchers were able to test only a small fraction of consumer products and a small number of the chemicals used in products. In addition, since manufacturers are constantly reformulating their products and products may vary in different regions of the U.S., results from these tests may not apply to current products on the shelves. But by providing a snapshot of the ingredients in various products at a particular time, the study highlights that EDCs and asthma-associated chemicals are common in consumer products and shows that product labels provide incomplete ingredient information.
Resources or References
Dodson, R.E., M. Nishioka, L.J. Standley, L.J. Perovich, J.G. Brody, R.A. Rudel. 2012. Endocrine Disruptors and Asthma-Associated Chemicals in Consumer Products. Environmental Health Perspectives, 120(7):935–943. doi:10.1289/ehp.1104052
Files
Fact Sheet: Hormone Disruptors and Asthma-Associated Chemicals in Consumer Products
Consumer products tested for endocrine disruptors and asthma-associated chemicals
Eleven products that had no detectable target chemicals