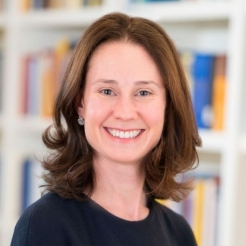 Staff Scientist
Dr. Kristin Knox joined Silent Spring in June 2019 as a staff scientist with a background in data science. She is currently working as part of a team to evaluate the efficacy of California's Proposition 65 Law.
Dr. Knox holds a PhD in Business Economics as well as master's and bachelor's degrees in Economics from Harvard University. Her doctoral research focused on the relationship between firms' corporate governance structures and the prices they pay for their bank loans. She has since used her data science skills in a variety of non-profit settings, mostly focused on the fields of education and public health. Dr. Knox served as Acting Director of Harvard's Office of Institutional Research. More recently, she completed a study of maternal health outcomes in Haiti for Partners in Health.
Dr. Knox's training in economics gives her a great appreciation for the importance of data. She is working to apply these skills to conduct quantitative analyses of exposure patterns and predictors, both to increase understanding of health risks and to reduce exposures.
In her spare time, Dr. Knox loves to cook and to travel with her family.
Projects
Publications & Presentations
Rodgers, K.M., D. Bennett, R. Moran, K. Knox, T. Stoiber, R. Gill, T.M. Young, A. Blum, R.E. Dodson. 2021. Do flame retardant concentrations change in dust after older upholstered furniture is replaced? Environment International. doi.org/10.1016/j.envint.2021.106513

Rodgers, K.M., A. Covaci, G. Poma, K. Knox, J.G. Allen, J. Cedeno-Laurent, R.A. Rudel, R.E. Dodson. 2020. Flame retardant concentrations are lower in college spaces meeting the new furniture flammability standard TB117-2013. Environmental Science & Technology Letters. doi.org/10.1021/acs.estlett.0c00483