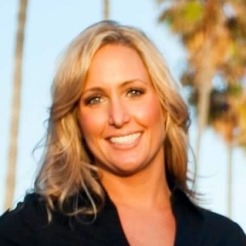 Software Engineer
Jamie Berrier joined Silent Spring Institute as a software engineer in 2021. She works on the institute's Digital Exposure Report-Back Interface (DERBI), an interactive web-based tool for sharing personal exposure results with participants in environmental health studies.
Jamie graduated with honors from Arizona State University with a bachelor's degree in Computer Information Systems. While working in the finance industry, she found herself wanting to apply technology to creatively solve problems and make a positive impact on the world through code. She completed Flatiron School's Software Engineering program with the Women Take Tech Scholarship, focusing on full stack development. As the daughter of a breast cancer survivor, she was inspired to apply her programming skills to support Silent Spring's mission.
Jamie lives in San Diego, CA and enjoys camping, mountain biking, and playing at the beach with her husband, daughter, and dog. On the weekends, you'll often see her by the side of a trail watching her husband compete in a mountain bike race or in the audience cheering her daughter on at a dance competition. In her spare time, Jamie volunteers as a youth cheerleading coach and choreographer.
Projects