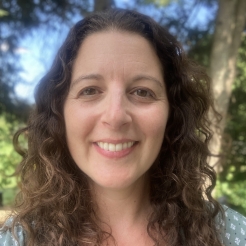 Grants Manager
Emily Chandler joined Silent Spring Institute in July 2022 as Grants Manager. She provides full life-cycle support of sponsored research, including proposals, budgets, subcontracts, compliance, and reporting on federal, state, private, and foundation grants.
Emily holds a Master's degree from Boston University's Center for Energy and Environmental Studies. She was the founding executive director of the Louisville Sustainability Council, an environmental nonprofit organization in Louisville, Kentucky. She previously worked as a project manager at Boston University's Framingham Heart Study and in research administration at the University of Massachusetts School of Public Health and Health Sciences.
Emily has found that her strong analytical, administrative, and organizational skills translate well into helping people and the planet through grant management. Emily loves being a mother to her two children and walking her dog in the woods.