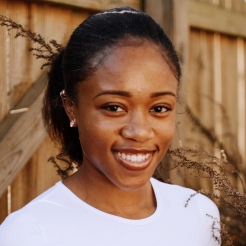 Postdoctoral Research Fellow
Dr. Elissia Franklin is a Postdoctoral Research Fellow with dual appointments at Silent Spring Institute and Northeastern University's Social Science and Environmental Health Research Institute. She comes to Silent Spring with expertise in mass spectrometry-based analysis of biomolecules, which she is applying to the Institute's biomonitoring studies and investigations of the human exposome, the spectrum of environmental exposures that an individual experiences over their lifetime and how they relate to health. Dr. Franklin's research focuses on evaluating chemical exposure injustice among women based on race, education, and other demographics. Her work is helping to advance the Institute's intervention studies, exposure evaluations, and epidemiological and community-based research.
She earned her PhD in Analytical Chemistry from Purdue University under the mentorship of Professors Yu Xia and Scott McLuckey. As a graduate research assistant, she combined radical chemistry with gas-phase analysis to probe biomolecules. Her thesis titled "Incorporation of the Paternò–Büchi reaction into mass spectrometry-based systems for lipid structural characterization" explores the utilization of in-solution modification with gas-phase ion chemistry for lipid elucidation. This work has potential application to detect biomarkers for diseases such as type II diabetes.
Dr. Franklin studied at Tsinghua University in Beijing, China as a Visiting Senior Research Scholar in the Department of Chemistry, where she developed a method to probe lipid carbon-carbon double bonds in tandem with liquid chromatography and mass spectrometry for online structural elucidation of complex lipid species. She finished a postdoc at Purdue developing gas-phase methods for the characterization of lipids.
She received a BS in Chemistry, graduating with honors, from the University of Illinois at Urbana-Champaign. As an undergraduate, she worked as a research assistant in Professor Steven Zimmerman's lab where she studied drug discovery for myotonic dystrophy type I, an inherited form of muscular dystrophy that may cause weakening muscles and challenges with other body systems.
Dr. Franklin also has a strong interest in research translation and using her scientific training to address issues faced by Black womxn. One way she does this is through her podcast, The Research Her. In the show, she highlights research that is related to improving the lives of communities traditionally neglected in science communication while elevating marginalized voices in science. During her free time, she creates digital communities, advocates for the pursuit of STEM careers, and debunks the image of STEM professionals.
Projects