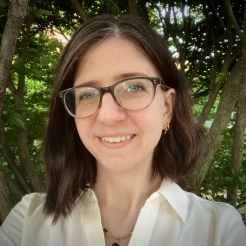 Deputy Director
As Deputy Director, Dr. Amy Dale supports the Executive Director to implement Silent Spring's Strategic Plan and the vision of the Board of Directors, coordinate priorities across the Institute, and create and lead organizational systems to support growth. She contributes to the overall planning and policymaking for the Institute and ensures that systems are in place to support Silent Spring's research, administration and finance, communications, and development programs. Additionally, Dr. Dale works to support and enhance the spirited, innovative, and collegial culture among staff.
Prior to joining Silent Spring in April 2023, Dr. Dale was a Senior Project Manager at the environmental consulting firm Gradient, where she managed and/or provided technical expertise for over fifty projects focused primarily on the assessment and remediation of contaminated sites and the restoration and protection of public waterways. Dr. Dale received a joint PhD in Engineering & Public Policy and Civil & Environmental Engineering from Carnegie Mellon University. As a PhD student, she synthesized across scientific fields to enhance understanding of the environmental fate of metal and metal oxide nanoparticles, a common ingredient in many consumer products. She also spent a summer with the Chesapeake Bay Program Office of the U.S. Environmental Protection Agency in Annapolis, Maryland, where she observed the use of water quality models to inform real-world decision-making for watershed and estuary management.
After receiving her PhD, Dr. Dale studied with world-renowned atmospheric scientist Dr. Susan Solomon as a Postdoctoral Research Associate at MIT. Her postdoctoral research focused on the potential impacts of climate change on food and water security across the African continent.
Dr. Dale is a former EPA STAR (Science to Achieve Results) Graduate Research Fellow, a former ARCS (Achievement Rewards for College Scientists) scholar, and a 2010 National Udall Scholar. Her peer-reviewed scientific publications include a widely-cited Feature article in Environmental Science & Technology on the environmental fate of engineered nanoparticles.
Dr. Dale serves on the Advisory Board for the Stone Living Lab, a research partnership focused on developing innovative solutions to increasing the resilience of coastal communities to climate change. In her spare time, she enjoys painting with watercolors, writing fiction, and exploring New England with her husband and her two daughters.