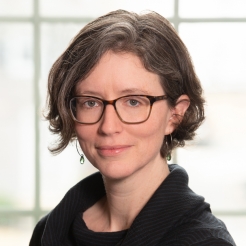 Director of Communications
Alexandra Goho joined Silent Spring in September 2015 to oversee the organization's communications program, including developing a strategic plan to expand Silent Spring's audience and influence and to help communicate the Institute's impact on environmental health and prevention science.
Trained as a science journalist, Alexandra has 15 years of experience writing about science and technology for the public. She has written for a variety of magazines, including MIT's Technology Review, Science News, and New Scientist. Prior to joining Silent Spring, she was a contributing writer for Cancer Today, a magazine aimed at cancer patients and advocates, and published by the American Association for Cancer Research. Her most memorable features include a profile of Sally Ride and her diagnosis of pancreatic cancer, as well as an interview with health economist and breast cancer survivor Felicia Knaul about global inequities in cancer care.
Alexandra has always had a passion for communicating science to the public, to translate complex scientific concepts in a way that is engaging and informative, and ultimately empowers audiences to participate in a broader discussion about how science impacts our lives. She is excited to share her passion with Silent Spring to help advance the organization's mission.
Alexandra holds a bachelor's degree in biology from McGill University and a master's in science journalism from Boston University. She is the mother of three daughters, and enjoys movies, music, and long road trips with her family.
Projects