Engaging Youth in Reducing Exposures
Working in collaboration with the Massachusetts Breast Cancer Coalition, we developed a hands-on high school curriculum to improve environmental health literacy and engage student in reducing exposures to endocrine disrupting compounds.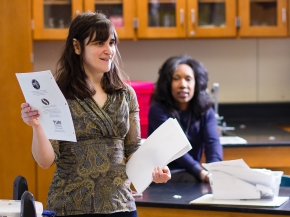 Students implemented take‐home surveys that helped them graph exposure trends for chemicals in household and personal care products and reduced their exposures using Silent Spring's free smartphone app Detox Me. Massachusetts students were also connected to youth mentors who have participated in biomonitoring research, including UC-Berkeley's HERMOSA and COSECHA studies. Mentors shared study results, highlighted steps they took to successfully reduce community exposures, and answered students' questions. From 2017-2018, 140 students participated in the two-class program at 6 high schools across Massachusetts, and another 150 students were reached through lecture hall presentations at two additional schools. We have continued to visit some of these schools after the official end of this project. 
Project components are available digitally and can be used in other classrooms. For more information on resources or tips for bringing environmental health curriculum into high school classrooms, please contact Jennie Ohayon at ohayon@silentspring.org.
Funded by
News & Updates
The goal of the project is to help high school students reduce their exposures to endocrine disrupting chemicals while providing them with leadership skills to promote healthier environments at home and in their communities.