The clothes we put on our body can affect our health as well, as fabrics come in close contact with our skin and can release particles that we breathe in.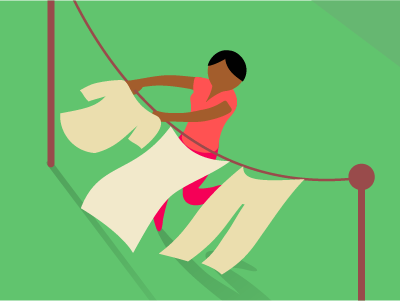 Chemicals in clothing can also end up in ground and surface waters from household wastewater. The types of chemicals found in clothing include dyes as well as additives that make clothes cleaner, stiffer, and brighter. Other chemicals can find their way into clothing through the washing machine or at the cleaners. Cutting chemicals where possible will reduce the burden on your body, your home, and the natural source waters around you.
Top 10 tips
1. Avoid PERC-based dry-cleaners—ask for professional wet-cleaning instead.
2. Wash new clothes before wearing.
3. Avoid wrinkle-free, stain-resistant clothing.
4. Choose polyurethane-coated waterproof shells over vinyl or fluorochemical raincoats.
5. Avoid clothing with fake leather or plastic prints.
6. Try castile or other plant-based detergent instead of detergents containing fragrances and optical brighteners.
7. Don't use fabric softener or dryer sheets—try baking soda, vinegar, or dryer balls to soften clothes if needed.
8. Use cedar wood and sealed containers instead of mothballs.
9. Try lemon juice or oxygen bleach to keep whites whiter, and treat chlorine bleach as a last resort.
10. Steer clear of clothes that have odor-resistant or antibacterial properties.