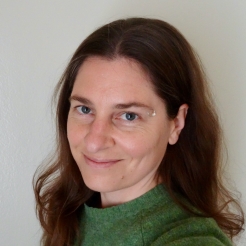 Postdoctoral Research Fellow
Dr. Abigail Bline joined Silent Spring Institute and Northeastern University's Social Science and Environmental Health Research Institute as a NIH T32 postdoctoral research fellow in September 2022. Her work includes researching immunotoxic mechanisms and related health effects from PFAS exposures, applying immunotoxicity research to analyzing and interpreting human cohort data, and translating research into public health policy and advocacy efforts. She is a multidisciplinary scientist with training and experience in toxicology, environmental science, and public health.
Dr. Bline completed her PhD in molecular toxicology at the University of California Los Angeles Fielding School of Public Health. Her dissertation research focused on mechanisms underlying germ cell dysfunction and reproductive defects in response to PFAS exposure using the model organism Caenorhabdidtis elegans. Concurrent with her doctoral work, Dr. Bline has served on the leadership team of a student-run free clinic providing basic medical and social services to people who are unhoused in Los Angeles. She has also worked as a teaching assistant for undergraduate classes in developmental biology, community health sciences, and society and genetics.
Dr. Bline previously completed a master of science degree in ecotoxicology at the University of Koblenz-Landau. During this time, she was involved in research projects examining the aquatic toxicity of pharmaceuticals using standard ecotoxicological as well as mesocosm studies. Her thesis work focused on quantitative landscape ecology with an analysis of measured aquatic pesticide concentrations from non-agricultural uses across the US.
Prior to her graduate studies, Dr. Bline worked for six years as a scientist with Stantec Consulting Services Inc. At Stantec, she specialized in phase I and phase II environmental site assessments and conducted dozens of investigations at contaminated sites across New England, New York, and New Jersey. She received her bachelor's degree in ecology and environmental science with a concentration in resource economics and policy from the University of Maine.
Projects